Sylvan Island Stampede
IMBCS #1 Sylvan Island Stampede
Sylvan Island Park
Moline, Illinois
Sunday, April 7, 2019
Race Director: Mandy Griesenbeck, FORC
Photos
Please respect the copyright of photographers who share their images with our community in good faith! – Thank You!
You can find videos and other albums on the IMBCS Facebook group here.
Podiums
Registration
*For the 2019 race FORC will be waiving entry fees for all 18 and under racers.
Register online through USA Cycling is now closed. On race day, registration opens at 7:00 am and closes 45 minutes before each race begins. See table below for breakdown of entry fees. This is historically a high turnout event drawing +300 racers and the registration tent can get crazy. Show up early.
Race Course
The course will consist of a ~4 mile loop of closely spaced, tight, and twisty island singletrack. Rocks, roots, concrete rubble, bricks, old building foundations, and slag debris will be the norm for most trails on the island. There isn't much elevation change but lots of tight corners mean short punchy efforts. Do your interval training! Pre-riding the course is recommended to get familiar with passing areas (there aren't many).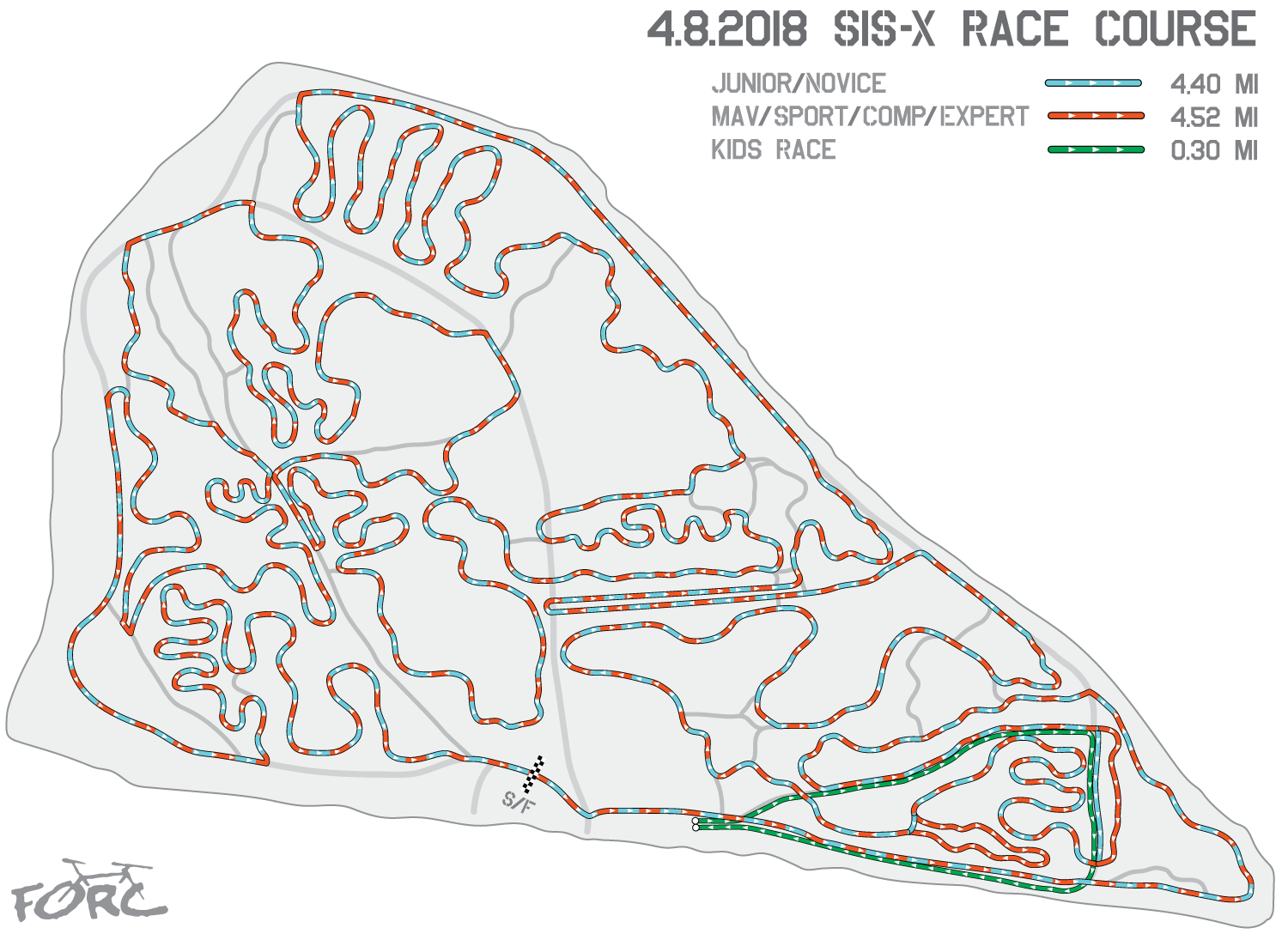 Race Timetable and Information
Racing Class
Start Time
Distance
Awards
Payouts
Age Divisions
Entry Fee
[Pre-reg|Day-of]
Novice (Cat 3) ♂ | ♀
9:00 am | 9:02 am
2 Laps
[8 mi]
Top 3 in age div.: Medals
Trophies
19 & under, 20-29, 30-39, 40-49, 50+
$20|$301
Juniors
9:04 am
2 Laps
[8 mi]
Medals
None
10-14, 15-18
Free!1
Maverick2
10:49 pm
3 Laps
[12 mi]
Top 3 overall: Medals
None
All Ages
$20|$301
Kids Race3
12:00 pm
0.30 mi
T.B.D.
None
9 and under
Free
Sport (Cat 2) ♂ | ♀
10:45 pm | 10:47 pm
4 Laps
[16 mi]
Top 3 overall
Cash [$30/20/10]
19 & under, 20-29, 30-39, 40-49, 50+
$25|$351
Expert (Cat 1) ♂|♀
1:00 pm | 1:02 pm
6 Laps
[24 mi]
Top 5 overall
Cash [$100/80/60/40/20]3
All Ages
$25|$35
Comp
1:05 pm
5 Laps
[20 mi]
Top 3 overall
Cash [$40/30/20]5
All Ages
$25|$351
Parking
Parking near the island is limited. Get there early and be prepared to walk a few blocks. Be as space efficient as possible when parking and make sure not to block driveways or other road access points. Parking volunteers will be available for guidance on where to park.
Kids Race
A kids race will be held around 12:30. The course will be a short loop of nontechnical doubletrack trail and grass field near the start/finish line. All kids 9 and under are encouraged to participate. There are no restrictions on bike type. Registration is required for insurance purposes but is FREE.
Weather & Trail Closures
Sylvan Island is rocky, dries quickly, and isn't prone to rutting when wet. A good combo for early season MTB racing! Delays or cancellations will only occur in the event of severe weather. The course may need to be shortened in the event of high river levels and flooding.
Food
There will be a food truck (or two) available at the event. There are also a few places in downtown Moline that sell food.
Questions
If you have any questions feel free to contact us trough these following methods: